Molasses
Sugar Cane Juice
B-Heavy Molasses
Beet Sugar
Sweet sorghum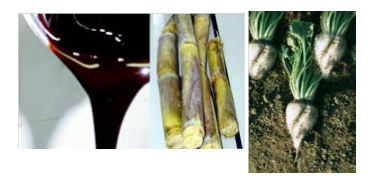 Ethanol from Sugar Beet / Tropical Beet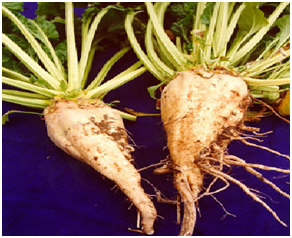 Sugarbeet (Beta vulgaris Var. Saccharifera L.) is a biennial sugar producing tuber crop, grown in temperate countries. Now tropical sugarbeet varieties are gaining momentum in tropical and sub tropical countries.
The bi-products of sugarbeet viz., beet top can be used as green fodder, while beet pulp and filter cake from industry can be used as cattle feed.
 Tropical Sugar Beet (Beta Vulgaris)
Short-term crop : 5 – 6 months to harvest
Potential to grow well in tropical / sub-tropical conditions
Good for crop rotation especially in rabi
High sugar content
Potential to develop superior varieties through agri biotech
Potential to be a source even for sugar.
•Grains: Broken Rice, Corn, wheat, sorghum etc.
•Tubers: Cassava, potato

Feedstock Options - Global Outlook
A variety of feedstock can be used in the production of ethanol, although the technology employed differs from feedstock to feedstock. Most of the world's production of ethanol comes either from sugarcane (from the juice or molasses in sugar production) or from corn.
In the Asia Pacific region, many countries have already evaluated other alternative feedstock for the production of ethanol. The Philippines has three major crops with existing production volumes that are being considered for the production of ethanol: sugarcane, corn, and cassava. These crops contain sugar and starch that can be processed into alcohol. In Thailand, cassava is already an established feedstock source along with molasses and cane juice.
China shall be relying on corn, a starch-yielding crop, for ethanol.
Globally, Brazilian ethanol is almost entirely from sugarcane, while ethanol in the US is produced using corn as the predominant feedstock. However, comparatively, using sugarcane to produce ethanol remains a cheaper process.
Indian ethanol industry currently is using molasses as a major raw material. The practice of using sugarcane juice has just been started. But the major produce of ethanol and alcohol comes from the sugar factory based molasses. Tropical beet and sweet sorghum cultivation has also started as an option to molasses when there is a steep hike in the prices of molasses.
World Ethanol Production by feedstock: