From The Desk of Deepak Desai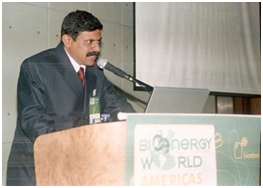 The New Biofuel Policy 2018 having a goal to increase the usage of biofuels in the energy and transportation sector of the country. During the coming decade it has not only given rise for investors as a business opportunity to invest in new projects based on various agricultural feedstock cultivated in various geographical locations. But also the movement will create new employment opportunities and will encourage sunrise advance technologies for generation of biofuels.
The team of Business Brains has being working on these objectives from 2003 and have very closely associated with the Industry and  have always remained as a part of solution with a backup of more than 23 successfully running plants.
The current requirement of ethanol is around 329 Crore liters and India currently will achieve a 143 Crore liters of blending in petrol. And with the new sugar season coming up and the government has increased the Price of ethanol to Rs. 43.46 from C-heavy molasses and Rs. 52.43 from B-heavy molasses and Rs. 59.13 from sugarcane Juice and broken rice. This objective would increase the blend considerably.
Hon. Prime Minister ModiJi, Minister of Petroleum Hon. Mr. Dharmendra PradhanJi and Minister of Road Transport Hon. Mr. Nitin GadkariJi have taken this movement to heart as it will not only reduce the carbon emissions by 35% by 2030, but also reduce the oil import dependence by increasing the share of non-fossil fuel.
Let's all support this movement as Biofuels in India is of strategic importance which would help Indian farmers.