Ethanol, also known as ethyl alcohol, is a flammable and colorless chemical compound. Ethanol produced by or from a biological source is Bioethanol.
Bioethanol is made from sugar plants (sugar beet or sugar cane), Molasses, and starch (grain, mostly corn and tubers such as cassava) and cellulose plants.
Ethanol Doping Chronology
September 2002
Govt. of India decides to use 5% ethanol blending with petrol in 9 states and 4 union territories
2003-04
First year of fuel ethanol program. 158 million litres consumed out of planned 300 million litres.
October 2004
Government withdrew the mandatory use of 5% ethanol blending due to  shrinkage in Cane Production and resulting shortage of molasses
Jan 2006
Restart of program with voluntary blending by oil companies. Only possible in 7 states.
November 2006
Expected rollout of 5% blending across the country (except north-east and island states).
Annual volume 560 million litres
November 2007
5 % Ethanol blending made mandatory, Procedure started.
Ethanol from Direct Sugarcane Juice is Permitted.
10 % blending made Optional.
November 2008
Government plan for 10% blending across the country expected.
November 2012
Mandatory mixing of 5% ethanol in petrol from December 2012 by the CCEA
Year 2017
National Biofuel Plan – 20% blending across the country.
2018
Government of India Cabinet approves National Policy on Biofuels – 2018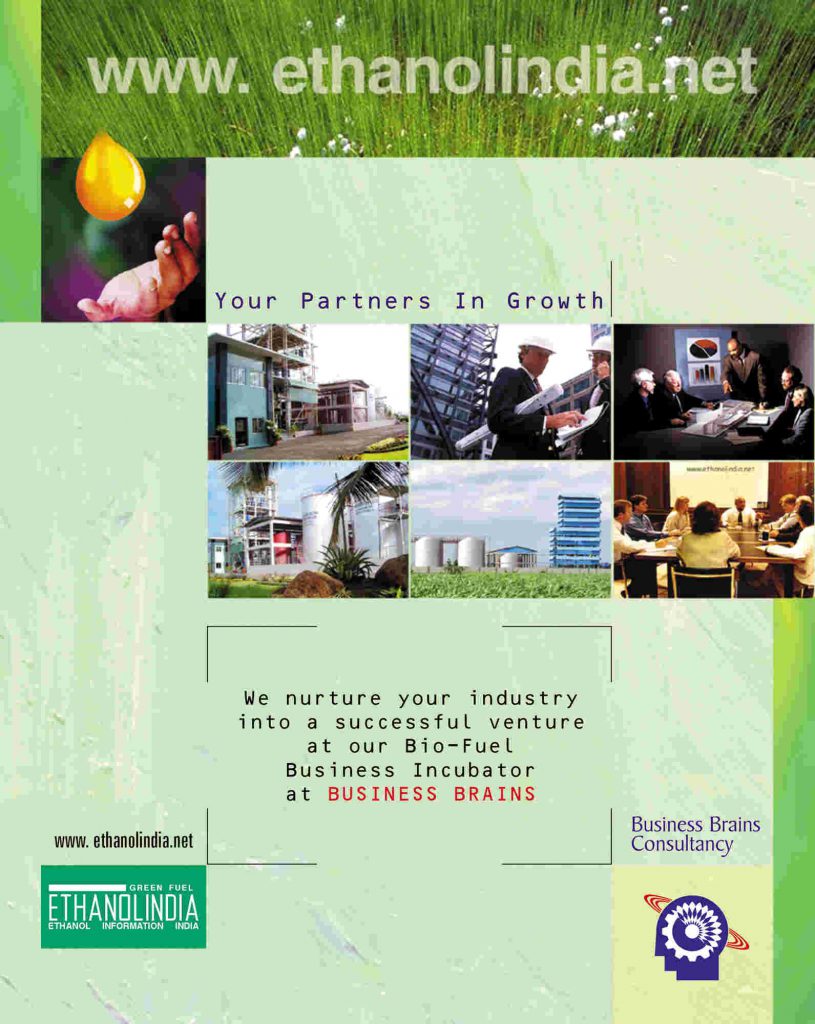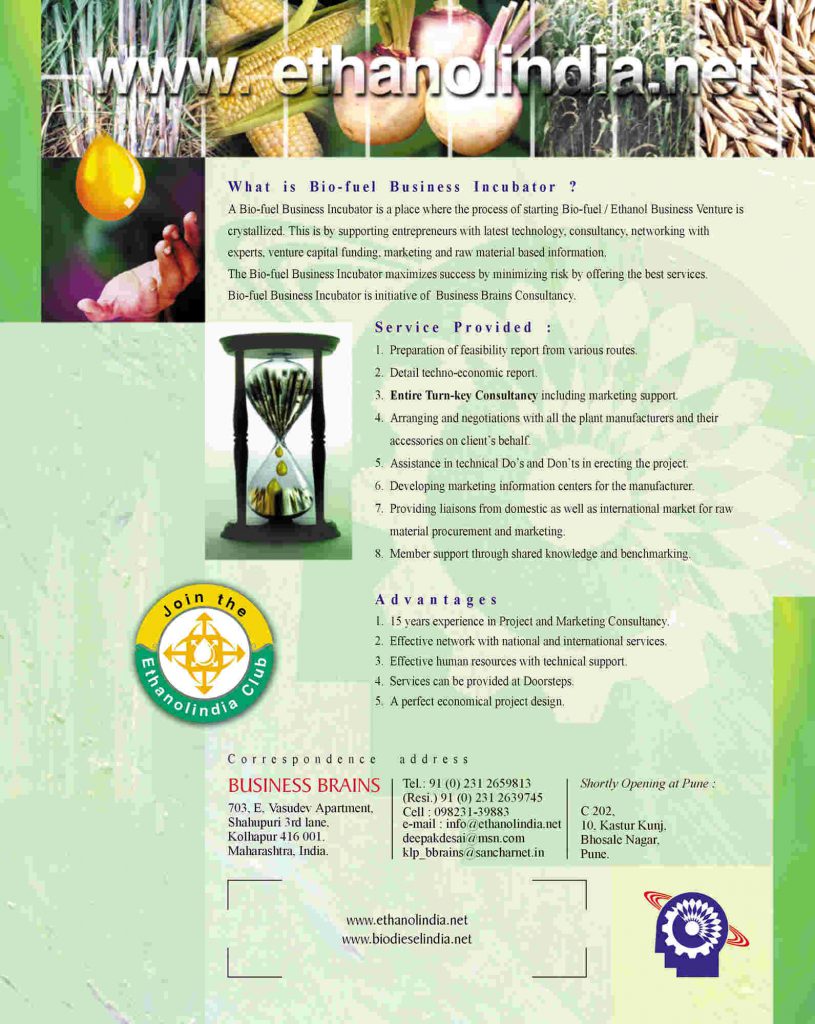 Business Brains Biofuel Business Incubator


At Business Brains Consultancy we define success as helping our clients make the right business decisions. Our in-depth knowledge and breadth of experience have resulted from years of advising and running sector of the bio-fuel industry.
Business Brains consultancy has strong expertise and unmatched ability to perceive trends and identify the advantages.
Business Brains is a team of technocrat and management professionals. The organization has several industry experts as its associates available for industry specific advice.
Business Brains
has an exhaustive in house database-covering subjects relating to field of activities.
The Policy categorises biofuels as "Basic Biofuels".
The Policy expands the scope of raw material.
Policy allows use of Sugarcane Juice, Sugar Beet, Sweet Sorghum, Corn, Cassava, wheat, broken rice, Rotten Potatoes for production of ethanol .
Expected Benefits:

Reduce Import Dependency
Cleaner Environment
Health benefits
Municipal Solid Waste Management
Infrastructural Investment in Rural Areas
Employment Generation
Additional Income to Farmers